Get off your knees - swivel head tool
A personal focus of mine has been to keep looking for ways to get resin flooring installers off their knees. In this video, I talk about a swivel head tool that I believe will be a great help for installers. I came across it at this year's World of Concrete. The idea is simple and it's quite remarkable how no one else has made such a tool before.
I thought it deserved a video, and I've included another piece of equipment below that's also aimed at getting installers off their knees.
This picture is of a "stand-up grinder". There has been many variations of this type of tool made over the years, however this particular tool focussed on the user being able to tilt the grinder onto the edge suiting the direction of travel, giving more manoeuvrability than fixed-head versions.

The machine itself is heavy, but it moves well on its castors. Perhaps the one area that could be improved is how the machine folds up for transport.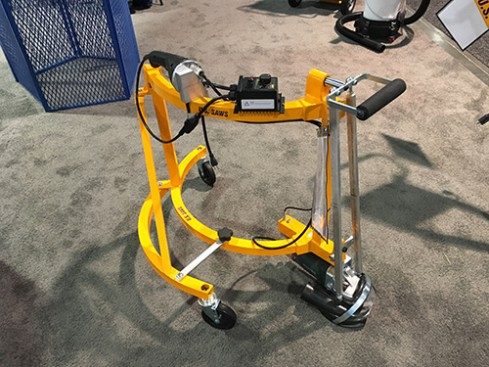 Video Transcription

So you've heard in the past that I've talked about our industry and trying to get smarter as we move towards mainstream flooring.

And one of the ways that I keep emphasizing is looking after installers, and in particular, getting them off their knees. And that's not always a simple thing to do.

D scratch coats means that to get that even pressure, you have to be on your knees, that's traditionally been the way to do it.

Well, as I walked around the World of Concrete this time, I kept an eye out for things like that.

Other things that would enable guys to get off their knees as they're doing different parts of the project.

I came across this tool and it's the first time I've seen a swivel head tool.

And the thing I really liked about it is I've worked with a fixed head, and I always notice that when you're trying to do a scratch coat with it, you can't get even pressure as you start to turn it.

You tend to leave a puddle or leave a thicker section or a trail leak.

The swivel head actually enables you to keep that even pressure. There's still a fair bit of weight in the tool, you can keep the even pressure, and I think this is a great way to get the guys off their knees.

So as always, I'm Resin Jack. Take care and keep smiling.